My characters

NEVER FULLY BECOME
Ilona Szwarc, Untitled #21, I am a woman and I cast no shadow, 2015
Ilona Szwarc
's photographic practice is consistent. Very consistent. This cohesiveness is notable for many reasons. For one, she focuses on the mutable themes of identity and how it is conditioned by culture. It is also significant in that she works with the slippery medium of photography. In part, the strength of her practice is due to the basis of her work on being a woman and an immigrant. There are many layers to unpack in each of her images, sequences, and projects connected by these through-lines. Read more about her cleverly complex practice below.
Ashley McNelis
Ashley McNelis
Hello from freezing Pittsburgh! How is LA?
Ilona Szwarc
February is the month of blooming magnolias in LA! Its own version of spring in the land of everyday sunshine.
Ashley Before LA, you were in New York, New Haven, and Warsaw, right?
Ilona I was born and raised in Warsaw, Poland. I had been coming to the US since I was a child, but I lived here for the first time during high school as a foreign exchange student in Texas. In 2008, I moved to New York to pursue my undergraduate degree at School of Visual Arts, and then moved on to graduate school at Yale. After two years in New Haven, I decided to move to Los Angeles.
Ashley Tell me about your year in Texas. Did your
American Girls
and
Rodeo Girls
series come out of this experience?
Ilona I moved from the largest, most dynamic, and most quickly changing city in Poland to a rural town of 1,200 people in the Texas panhandle. In Warsaw, I could be independent and urbane, but I was steeped in teenage lethargy. In Texas, my life became one of suburban confinement and mindless driving through the endless flatlands, but I really wanted that experience. I wanted life to happen to me and take me away from what I knew.
This transition shook my world and that of Canadian, Texas. I was the alien, a displaced kid with an accent with a different taste in fashion and music, different body language, and a different educational background. I became aware of my appearance in a very new way and started picking up clues about what was cool in this world. For me and for my peers, it was a lesson in otherness.
(from left) Ilona Szwarc, Lariat, Gruver, Texas, 2012; Lexi, Lindenhurst, New York, 2012
For Rodeo Girls, I intentionally went back to Canadian to make a body of work about the place that was so charged for me. When I went to the rodeo on a Thursday night as usual, I stumbled upon a group of young girls who were participating in the rodeo competitions. It was just around the time when I was finishing working on American Girls, a series of portraits of girls across the US who owned customizable, mini-me dolls, and it seemed like a perfect second chapter. Both bodies of work feel related to the awareness I developed as a Polish teen in Texas of how culture conditioned my childhood. In some ways, this is an obvious observation, but it's impossible to see clearly the effect of culture on oneself. Through those bodies of work, then, I could examine the ways in which American children are specifically American and the ways in which their coming of age resembled mine as an outsider.

Both projects deal with the construction of female identity and look at two different cultures of growing up as a girl in the United States. American Girls is about the perpetuation of traditional female roles and the importance of grooming and self-fashioning, while the subjects in Rodeo

Girls expressed their femininity in a male arena and transferred it onto pampered animals. American Girls is all about the interior of an American domestic space and the staging of childrens' rooms, while Rodeo Girls is about the beauty of the terrain of the idealized American frontier.

Ashley Your work regularly deals with your being both a woman and an immigrant. It's telling that that distinction started so early and has continued on so strongly in your practice.

Ilona I base everything on my own life experiences as a woman and as an immigrant. I start from there, and then I look for characters—real or imagined—and details and spaces, vessels to communicate those ideas, conflicts, and stories. Having lived through several identity crises, occasioned by immigration, displacement, and the dissolution of my marriage, I am tirelessly consciously and subconsciously readjusting and composing myself. I am always switching between different expressions and personalities depending on what language I am speaking, never arriving at a fixed identity. Neither here nor there. Can I go home? Where is home?

While formally my newer work looks different from my previous work, the core of my interests remains the same. It is also about the process of becoming and about what it takes to shape a self.
Ashley Would you be able to speak to the concept of constructed identity in relation to your series,
You are now entering the human heart
?
Ilona
You are now entering the human heart
is a series of collaborative portraits of transgender women from Poland who, in recent years, have been actively seeking a public platform. This has become more urgent and visible in Poland since the national parliament welcomed its first openly trans delegate,
Anna Grodzka
, in 2011.
This body of work builds on my previous projects about socialization and typologies of women as defined by culture and identity. I also approached this project as an outsider looking in, not from the standpoint of a participant. Although my experience of gender is different from theirs, this project was an effort to seek and depict points of connection and relatability between women.
Ilona Szwarc, Zara, Spisska Nova Ves, Slovakia, 2014
The body of work includes portraits and collages that examine how trans women construct their femininity in the context of Polish culture and how they filter and define ideas about what it means to be a woman. The portraits reflect their experiments with makeup and nail polish, trying on high heeled shoes, and their searches for "errors" and inconsistencies in their images. Of course, these are common experiences for many women, regardless of the sex with which they were born, although the specifics—how, when, and with what degree of deliberation this happens—are different in many ways for these women than they were for me.

Through the act of photographing themselves and the desire to be photographed by others, transgender women willfully reduce their body to an image that can be looked at, judged, and reflected upon. This particular reduction of oneself to an image is a form of externalizing, authenticating, and validating an individual appearance. This is in part a result of functioning in patriarchal capitalism and the circulation of images in this system; however, it is also a genuine pursuit of a cohesive identity. Perhaps this cohesiveness in appearance can be only reached in a fixed photograph.

Ashley Interesting. There was a collaborative aspect to the project, right?

Ilona I invited everyone to respond to the portrait I took of them by constructing a self-portrait in the form of a collage. They could choose to pull images from political journals, feminist magazines, news, cooking magazines, tabloids, and even porn. From these sources, participants cut and pasted figures and body parts that they believed best represent their self-image, their aspirations, and their desires. In the medium of collage, the body becomes the form, which can be fragmented, transformed, and manipulated.
Ashley Could you speak about your desire to become imperceptible and the connection between one's appearance and their identity?

Ilona Becoming imperceptible is one's desire to fuse the self with her habitat. To mimic an accent, body language, or fashion just enough to belong, to survive. In essence, I mean passing. I can pass as an American woman until someone notices my accent. I have led myself through a series of transformations—both internal and external, conscious and unconscious—to shed my cultural belonging.

Mimicry constantly produces slippages, excess, and difference. Cis and trans women learn about gender roles and appearance through mimicry, immigrants learn new languages and customs through mimicry. There is a difference between being American and Americanized. Naturalized. Almost the same but not quite. These are figures of doubling. The translation of identity into a site of continuous negotiation of the subject in process is very important to me. My characters never fully become. They are always in a state of unfinishedness.

(from top) Ilona Szwarc, Untitled #12, I am a woman and I feast on memory; Untitled #9, I am a woman and I feast on memory; Untitled #21, I am a woman and I feast on memory; Untitled #4, I am a woman and I cast no shadow; Untitled #12, I am a woman and I cast no shadow;Untitled #17, I am a woman and I cast no shadow, (all) 2015
Ashley Now might be a good time to transition into talking about your self-published
book
in three parts:
I am a woman and I feast on memory
,
I am a woman and I play the horror of my flesh
, and
I am a woman and I cast no shadow
. For each series of photographic portraits, you transformed the appearance of American women who strongly resemble you. This performance created a mirroring effect and raises questions about selfhood, assimilation, and becoming. Could you speak about the process?
Ilona This body of work began with the idea to organize a casting call for my doppelgängers. In this series, I wanted to turn inwards and create my own typology. My identity is both Polish and American, so I decided to look for American women who look like me to bring out the familiar and the foreign simultaneously. I wanted to treat myself as an object and a subject at the same time. It was important that all the transformative gestures were performed on someone visually similar on whom I could easily project my consciousness. I tried to push toward the outer limits of portraiture and self-portraiture. I wanted to have the viewer constantly questioning if they are looking at a portrait or a self-portrait.
Through cinematic close-ups of the marks I made painting and drawing on the model's face, I first created an uncanny portrait of an aged woman. Then, through abstract and colorful mark-making, I transformed her into a large woman. The series culminates with an androgynous, grotesque, saintly mask, a contemporary Vera Icon of my own doppelgänger. I am putting my body through an abstract experiment in reproduction by producing a mask, another face of my own and of my own kind. The series concludes with a Janus figure in which I am looking at myself— at my future and my past at the same time.
The photographs are carefully staged so that every detail is coded with meaning. The narrative thread is just as important to the project as the performative aspect. The three series are intertwined by the use of the same props and through the transference of emotion and identity between the characters that I establish. For example, in the first series,
I am a woman and I feast on memory
, as the face of the model ages—through the close-up of a hand—we notice that the body of the makeup artist ages too. I am trying to create relationships that question whether we are witnessing two characters and/or an internal dialogue.
Ilona Szwarc, I am a woman and I play the horror of my flesh, 2015
Ashley There are slippages in the layered photographs that reveal your Polish identity, too. Could you discuss the model's metamorphosis in relation to your own identity and experience?
Ilona Everything that happens is consistent with the narrative of an actress becoming the character she will embody on stage. The first photograph is a "before" shot where we see her wearing her own clothing backstage. As the tutorial culminates, I am consciously using some props that suggest a Polish (or at least an Eastern European) culture and aesthetic. This ties very much to my personal history. However, putting a traditional, folk Polish scarf on an American model is a reversed projection of my cultural assimilation where my experiences are played out onto her.
Ashley You have done live performances of this process, including one in Amsterdam during UNSEEN
as a part of
FOAM Talent 2016. Do you feel vulnerable during the staging or performance process?
Ilona I feel much more vulnerable in moments like these, talking about the work, analyzing it. Also, I feel vulnerable when I am with the work on my own: printing, editing, and writing about it. During the shoots or a performance, my mind is focused on the production. The intimacy is removed somehow, as I am in essence reenacting scenarios I storyboarded ahead of time.
I like to use reference images as jumping off points for my models and assistants. I often ask my models to read some of the quotes I've put together about the character or about ideas that I am working through. Sometimes we read makeover testimonials outloud, or passages from books for women with advice on makeup and what not to wear. I love engaging with actors and fictionalizing the characters of the model and the makeup artist. As I am often in front of the camera along with my protagonists, the shoots become acts of orchestrating different people, props, makeup, and lighting. I usually work with an all-female crew which creates a space of camaraderie and friendship.

Ashley The performative aspect was a very natural next step for the work which is, in part, a performance of and a play on gender. In moving between portraiture and self-portraiture, you are exploring and staging the concept of the ideal self. Your new works are similarly staged but now less project-oriented. Can you tell me about a few of them?

Ilona I've moved away from the convention of the photographic series, for now. Since the work is concept driven, sometimes it is just one photograph that fully carries out the idea, while sometimes it's a sequence.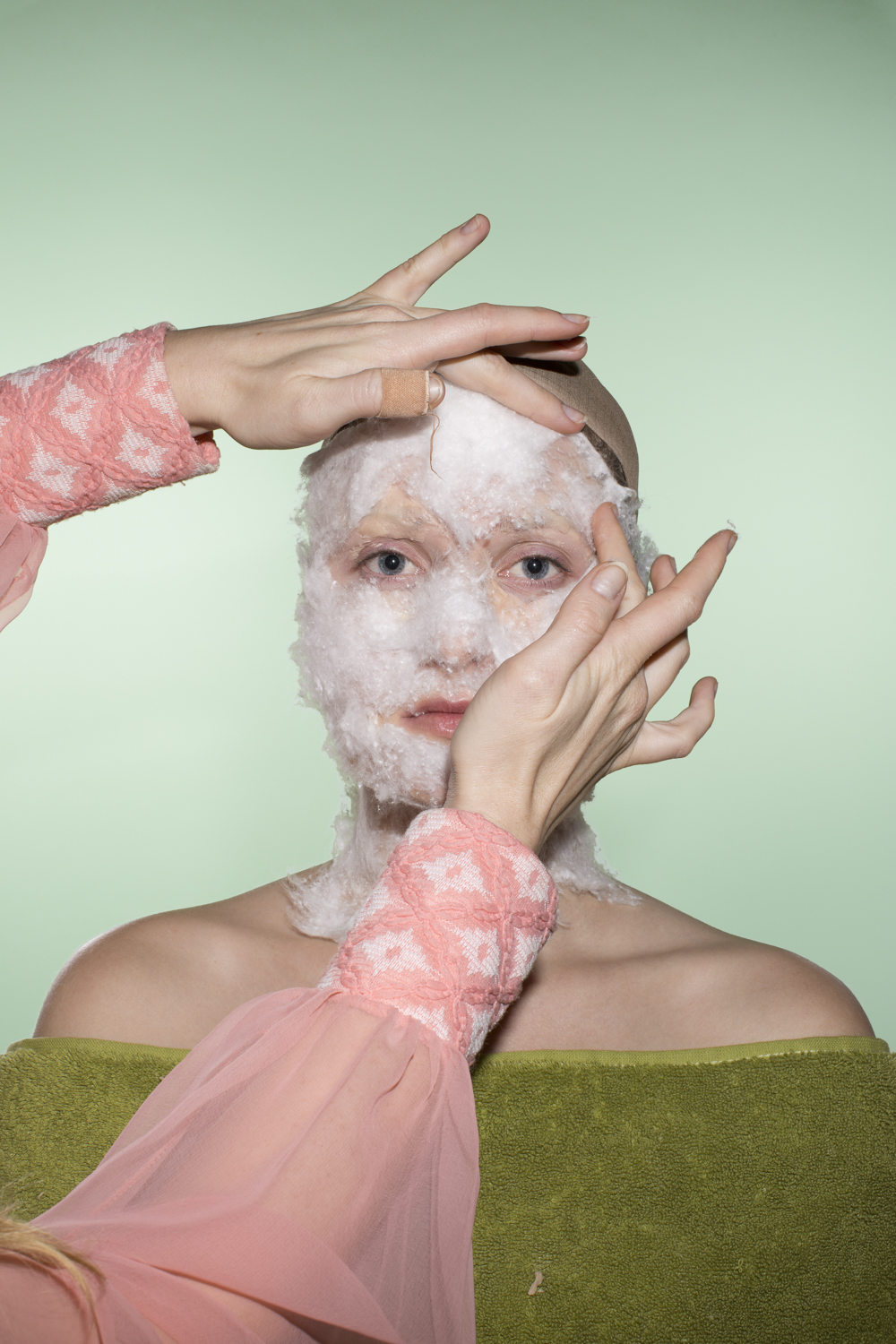 (from top) Ilona Szwarc, She would consider herself defiled, 2018
Ashley The new tutorial series She would consider herself defiled is particularly successful at showing different stages of becoming and transformation. It's so layered!

Ilona Szwarc, Her eyes retain a devastating memory, 2017
Ilona She would consider herself defiled is a series of instructional photographs, a tutorial of "extreme old age" stage makeup. I collect books on stage and film makeup techniques. This series is based on a so-called "construction" makeup technique, where a layer of tissue or cotton is applied along with spirit gum and liquid latex to create a textured skin effect. I push it into the realm of the grotesque and introduce a witch as a character. I see the witch as a signifier of women's cultural un/belonging, a woman on the margins of culture, an intertwined space of gender, transgression, and fantasy. There is also a suspension between fantasy and memory, between auto/biography and fiction, between authenticity and fraud.

Ashley You've started to introduce found elements in your work, too. For example, Some women can take their eyes out uses a page from a vintage book on photography. How do you relate found objects to the staged photographs?

Ilona Let me answer with an example. Some women can take their eyes out is a photograph of an eye surgery from a book I found in Portland, Oregon. Earlier in 2017, I completed a sequence of close-up photographs of eyes—Her eyes retain a devastating memory—in which I watch my identity disintegrate in the eyes of my double. As her eye tears up, my portrait becomes more and more distorted, and completely blurred in the final image of her bloodshot eye. The found photograph of the dissected eye echoes my intervention in my model's eye. It's as if someone else has forcefully taken my character out of her eye. The scale between those works shifts dramatically, but both the viewing experiences enable the viewer to intimately discover the detailed progression of the portraits in the works.
Ashley There are definitely a lot of connections between makeup tutorials and the many uses of photography. Could you talk about your use of moulds?

Ilona I first started working with silicone moulds in I am a woman and I cast no shadow. I am curious about the optic phenomenon which happens when you place the mould in front of a lens and experiment with lighting. There is a moment of optical illusion in which the mould, although protruding away from the camera, registers in a photograph as if it were facing the lens. I also enjoy working with these sculptural elements—the by-products of both traditional sculpture techniques and special effects makeup—and exploring their potential through a lens-based medium.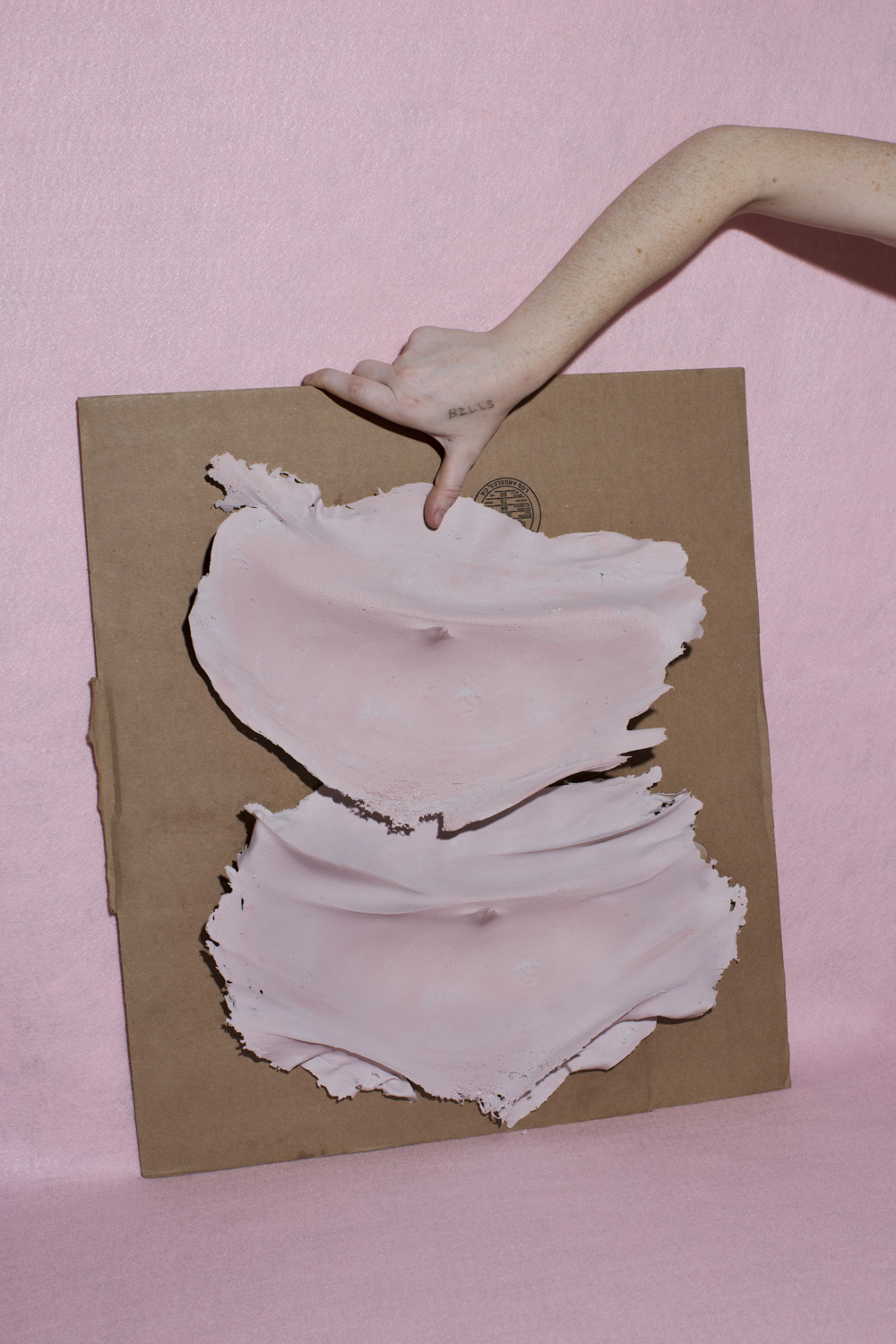 Ilona Szwarc (clockwise from top), She is herself a cave full of echoes, 2017; She lives without a future, 2018; She was born without a mouth, 2016; She existed characterless, with no memory at all, 2018
Ashley How has moving to LA affected your practice?
Ilona Los Angeles is a city of splendid white teeth, long eyelashes, activewear, pet cloning, and self-care regimens. It is also the land of the ghosts of Hollywood, special effects makeup, and prop houses. A whole universe of materials opened up for me here. Lately I've been making more work in the studio, focusing on one material with an intentional stripping down of the aesthetic.
For example,
She has never seen her own blood before
is a series of instructional photographs showing how to make fake blood. I am fascinated by blood recipes from different special effects makeup artists, and how intricate the different techniques are. As with all the titles in this new work, the title for this piece comes from
Angela Carter
, and it obviously points back to the female experience of menstruation.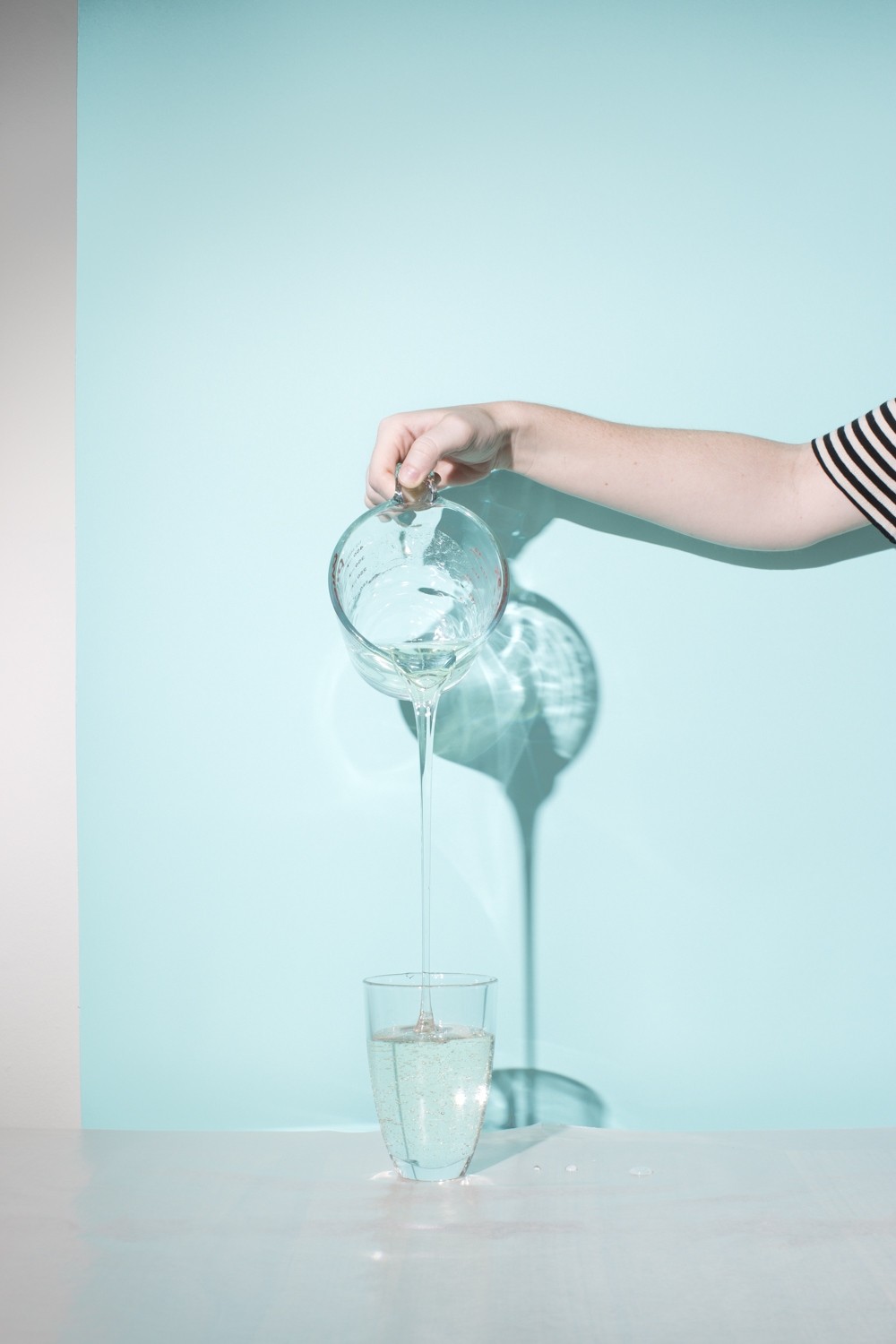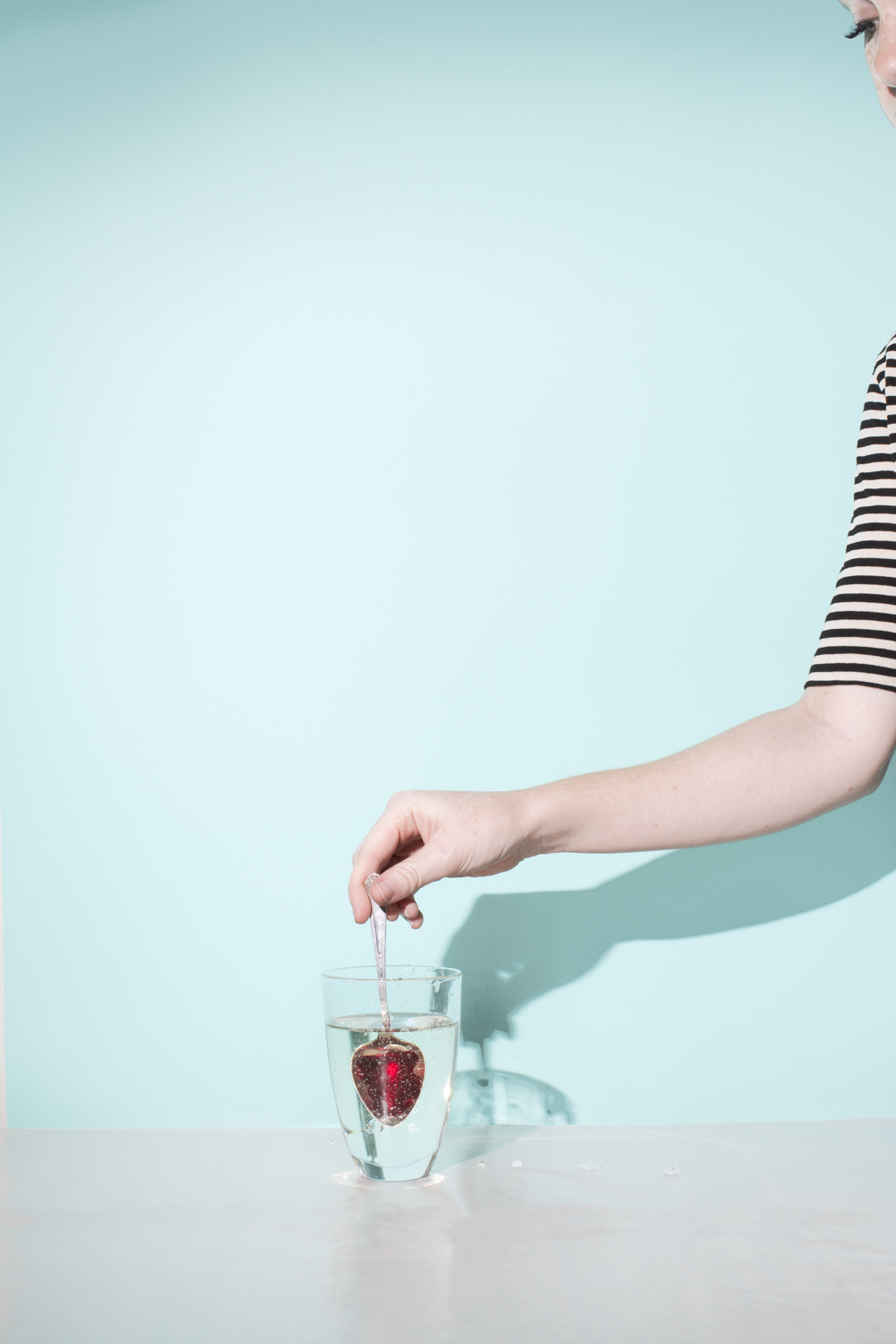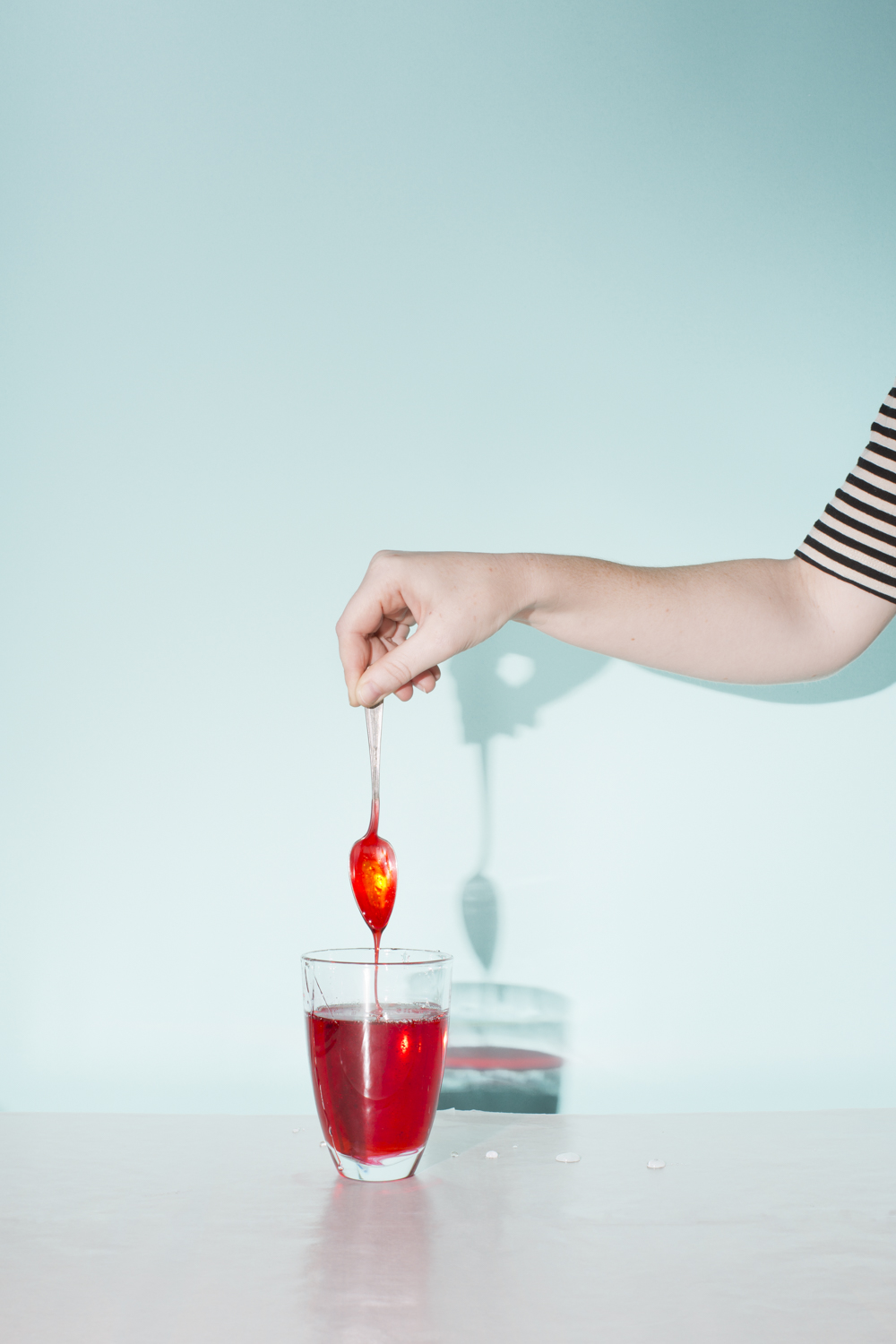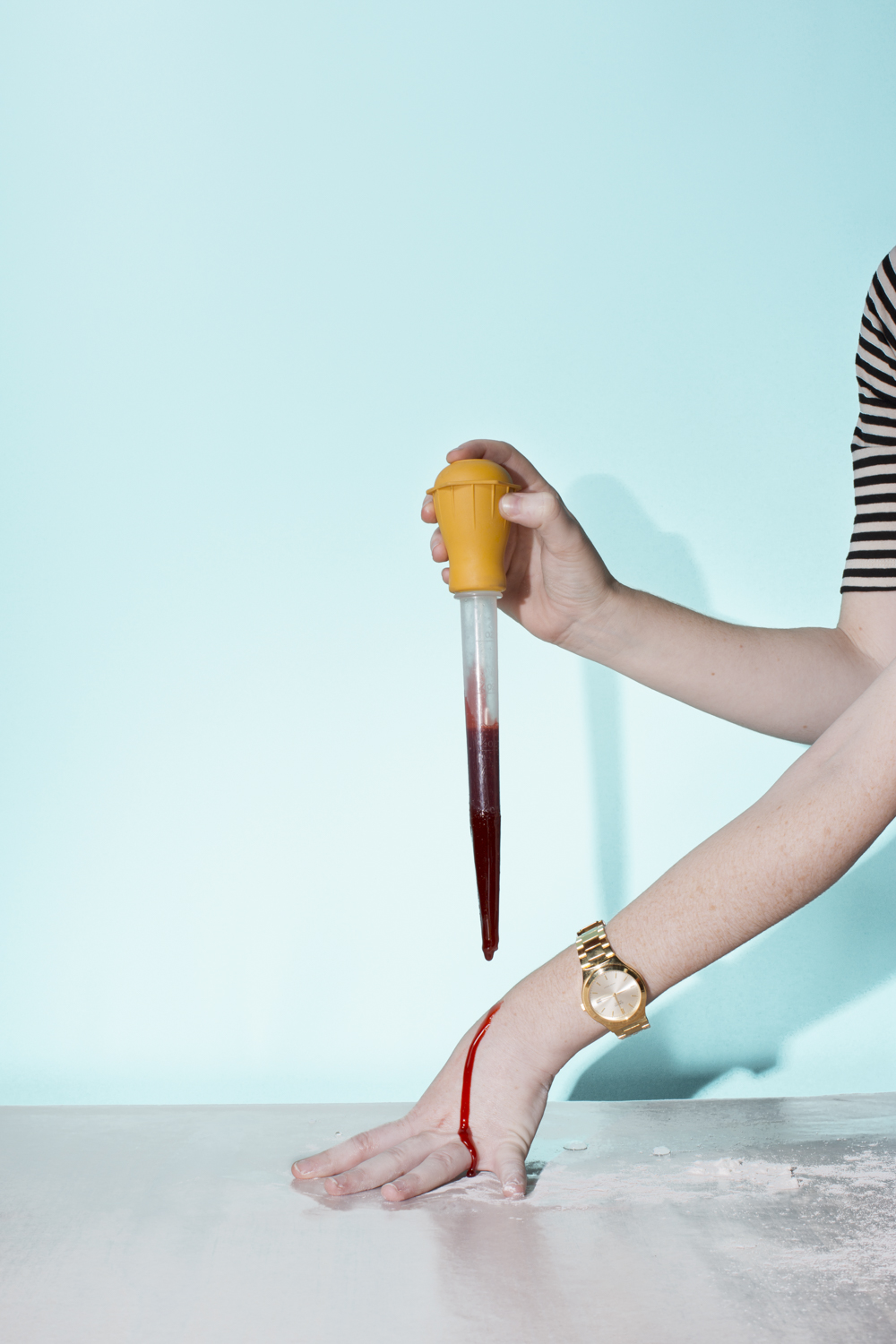 Ilona Szwarc, She has never seen her own blood before, 2018
Ashley I love how you use red "blood" against a blue background in that work. It reminds me of how, in tampon commercials, the "blood" is never red, but blue. The commercials feed into the idea that menstruation is impure and taboo. Also, I appreciate that there is a progression from a sterile, clinical test within a glass to a slightly messy scene that has moved onto the table and the model's hand. It's as if this series also subtly conveys that menstruation is not a big deal.

Ilona I love that comparison. To make this work in Los Angeles is also to dissect the everyday work of makeup artists working on film sets. It's to slow down and really look at every step of the processes that so many women and actresses go through daily, quickly, fully normalizing the experience.

Los Angeles has also been sneaking up as a backdrop in my work. I love the eclectic Los Angeles architecture, the Art Deco traces, the mid-century modern obsession, the lavishness of 80's interiors. I've been also making work in a Bel Air mansion. Part of that property once supposedly belonged to Clark Gable. It is also just around the corner from both Elizabeth Taylor's and Alfred Hitchcock's former residences. In She existed characterless, with no memory at all, I am bringing in the decor and the space of Los Angeles into the designated zone of skincare and beauty regimens.

Ilona Szwarc, An American in America, 2014
Ashley Finally, let's talk about your commission
An American in America
which parallels those processes but to different ends.
Ilona
An American in America
was a commission for
S Magazine
in Germany. It was an opportunity for me to explore many themes in my work but from a directorial approach. Between high school and college, I briefly worked on film sets and gained experience working with a crew of people in staging and production.
In this project, the characters are fictitious and the theatricality is evident. They feel most animated and alive through their fantasies but they come back to feelings of introspection and alienation in the real world. I was obsessed with the challenge of portraying a collapsed lifetime in a single picture. I cast two women, a younger character and an older character, and I imagined that they are one person seen at distinct moments of her life.
The series was shot on different locations in New York, which included a funeral home, a psychic's shop, a commercial photo studio, a flower shop, and botanical gardens.
At the time, I was very concerned with the question of aesthetics as signifiers of culture. How do you communicate cultural specificity? Can a photograph be American? Polish? I was trying to confuse those spaces and move in and out of the typically American sites, like a Burger King in Queens, to the Bronx, which looks a lot like where I grew up. The work became about staging cultural narratives and tropes.

The series concludes with a double portrait of the two women, however disconnected, and poses a Borgesian question: would it be possible to meet yourself at a different age? At 70? At 13? Could you have a conversation with that different version of yourself? The very last photograph— a dark, Eastern European clown—is a harbinger of my next series exploring makeup techniques.

︎
Ilona Szwarc
received an MFA in Photography from Yale University and a BFA from School of Visual Arts. She has been awarded the Richard Benson Prize for Excellence in Photography, the Arnold Newman Prize for New Directions in Photographic Portraiture, the World Press Photo and was recently chosen as FOAM Talent. Her photographs have been featured in numerous publications worldwide and have been exhibited in the US and internationally, with recent exhibitions at Shulamit Nazarian and Regen Projects in Los Angeles, Danziger Gallery in New York and at Unseen Photography Festival in Amsterdam.
Ashley McNelis
is a writer, curator, and art historian specializing in photography and contemporary art. She is the Curatorial Assistant for the upcoming
Carnegie International, 57th Edition, 2018
at the Carnegie Museum of Art in Pittsburgh. She holds a master's degree in the History of Art, Theory & Criticism from the Institute of Fine Arts at New York University.